Thursday 15 June marks International Elder Abuse Awareness Day.  
Abuse has no age limit.  It can affect anyone. 

If you work with, care for, or have family members who may be at risk, please look at the different types and signs of abuse:  
Physical signs can include cuts, bruises, wounds, burns, broken bones, untreated injuries, poor skin condition or skin hygiene, dehydration and/or malnourished, weight loss, isolating victims from health and care services and damaged clothes or items in the home.  
Psychological signs can include unlikely stories, reluctance to talk openly, confusion, anger without apparent cause, sudden behaviour changes, being emotionally upset or agitated, unexplained fear or becoming withdrawn, noncommunicative or non-responsive.  
Financial signs can include changes to a person's banking, wills or assets, unpaid bills when someone else is supposed to be paying them, excessive care costs, valuable items disappearing, and lack of simple affordable amenities. 
Please don't suffer in silence.  Help is available from the following organisations:
Live Fear Free is the National helpline to report and get advice about all abuse. It is available 24/7. Call: 0808 80 10 800.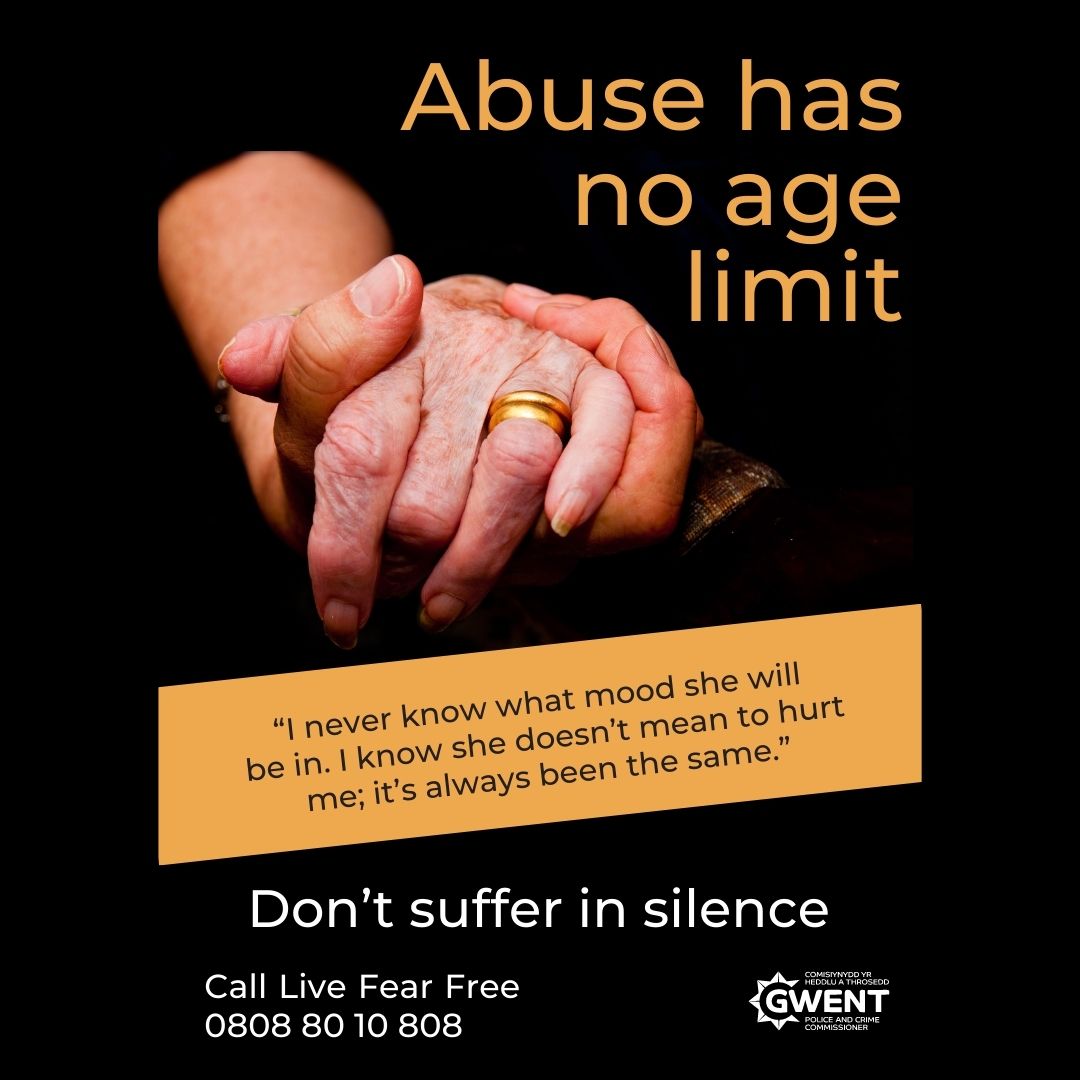 Age Cymru Gwent supports older people in Blaenau Gwent, Caerphilly, Torfaen, Newport and Monmouthshire. If you would like to make a referral for information and advice and support, please contact the Age Cymru Gwent Information and Advice team on: 01633 240 190. Lines are open between 9:00am and 2:00pm, Tuesday, Wednesday and Friday.  
Gwent Safeguarding Board If you are worried about the safety of an older person who may be at risk, contact Gwent Safeguarding. Tel: 01495 762 200.  Email: socialcarecalltorfaen@torfaen.gov.uk 
Gwent VAWDASV If you are worried about someone experiencing domestic abuse, contact Gwent Violence Against Women Domestic Abuse and Sexual Violence team: www.gwentsafeguarding.org.uk/en/VAWDASV 
Hourglass Cymru Hourglass provides a voice, help and support for older people at risk. They offer a free confidential helpline on: 0808 808 8141.  It is available 24/7.  
Gwent Police You can also speak to Gwent Police by calling 101, speak to your local police officers, or you can email: contact@gwent.police.uk. However, remember in an emergency, always call 999.  
Cyfannol Women's Aid Cyfannol Women's Aid is an independent local charity based in Blaenau Gwent, Monmouthshire, Newport and Torfaen, providing support services throughout Gwent to people experiencing any form of Violence Against Women, Domestic Abuse or Sexual Violence. They offer community-based support to people of all ages, and their refuge accommodation can cater to specific needs, including people who have carers and those with mobility issues.  
To contact your nearest office call:
03300 564 456. For access to emergency accommodation, day or night, call: 03300 564 456. 
Torfaen office:  3 Town Bridge Buildings, Park Road, Pontypool, NP4 6JE.
Open Mon – Fri 9.30am – 4.30pm.  Email: torfaen@cyfannol.org.uk  
Phoenix Domestic Abuse Service offers support for individuals and families experiencing abuse and unhealthy behaviours. Assessments and Interventions for Perpetrators of Domestic Abuse Elder abuse also occurs in cases of Child and Adolescent to Parent Abuse (CAPVA), where grandparents provide care to young people displaying abusive behaviours. Phoenix DAS can provide support in these cases. For further information, please contact 01495 291 202 or info@phoenixdas.co.uk  
For more information about domestic abuse support in Gwent, please click here.
Stori is a social landlord that offers a range of services to support and enable people to make changes in their own lives that empower them change their life story, for a brighter more positive one.  
In Torfaen, they provide floating support for survivors of Domestic Abuse, including families who live in their own homes or elsewhere within the community. They offer a range of services, including accessing financial support, tenancy related support, independence skills, training and employment and accessing local community services. For further information, call: 01267 225 555. 
Torfaen office: 24 George Street Pontypool NP4 6BY  
Victim Support Gwent If you've been affected by crime, call Victim Support Gwent 0300 303 5638. Lines are open 9am-5pm Monday to Friday. Alternatively, you can email us at GwentVCU@victimsupport.org.uk If you need support outside of our open hours, call our free Support Line on 0808 16 89 111.  
There is a free live chat support service available 24/7. Create a free account on My Support Space – an online resource containing interactive guides to help you manage the impact that crime has had on you.